The noble family of Nugent was settled in Ireland since the subjugation of that country by
HENRY II.
SIR GILBERT DE NUGENT,
one of the knights who accompanied Hugh de Lacie in the expedition to Ireland, having married Rosa, the sister of the said Hugh, obtained thereby the lordship of Delvin; but, his sons predeceasing him, he was succeeded at his decease by his brother,
RICHARD NUGENT,
whose only daughter and heiress carried the barony of Delvin into the family of Johns, or Jones, into which she married, and it so remained until brought back by the intermarriage of
SIR WILLIAM NUGENT,
of Balrath, descended from Christopher Nugent Esq, 3rd brother of Sir Gilbert, with Catherine, daughter and heiress of John Fitz Jones, Baron of Delvin. This William was elected sheriff of Meath in 1401. He was succeeded at his decease by his eldest son,
RICHARD,
2nd Baron of Delvin, who, in consequence of his services and expenses in the king's wars, to the impoverishment of his fortune, had an order, dated at Trim, 1428, to receive twenty marks out of the exchequer. Having married, he was succeeded by his eldest son,
JAMES,
3rd Baron of Delvin, whose eldest son,
CHRISTOPHER,
4th Baron of Delvin, married the daughter of Sir Robert Preston, of Gormanston, and was succeeded by his son,
SIR RICHARD NUGENT
, knight, 5th Baron of Delvin, who married Elizabeth, daughter of the Earl of Kildare, and was succeeded by his son,
CHRISTOPHER,
6th Baron, who was father of
RICHARD,
7th Baron.
RICHARD,
10th Baron of Delvin by tenure, and fourth by writ. This nobleman was arrested in 1607, and committed, by the Lord Deputy Chichester, to Dublin Castle, upon a charge of high treason, being concerned in a conspiracy with the Earls of Tyrone and Tyrconnel, and others, to surprise Dublin Castle, cut off the Lord Deputy and council, dissolve the state, and set up a government of their own.
His lordship effected, however, his escape, by the assistance of his servant, and was, subsequently, proclaimed a traitor.
Surrendering in the following year, he obtained a pardon under the Great Seal, and so entirely re-established himself, in a few years, in royal favour, that he was created EARL OF WESTMEATH in 1621. Lord Westmeath was succeeded by his grandson,
RICHARD,
2nd Earl.
GEORGE THOMAS JOHN,
8th Earl and a direct descendant, was born in 1785. He married, in 1812, Lady Emily, 2nd daughter of James, 1st Marquess of Salisbury, by whom he had an only surviving daughter, Lady Rose Nugent, born in 1814.
His lordship was further advanced to a marquessate, as MARQUESS OF WESTMEATH, in 1822.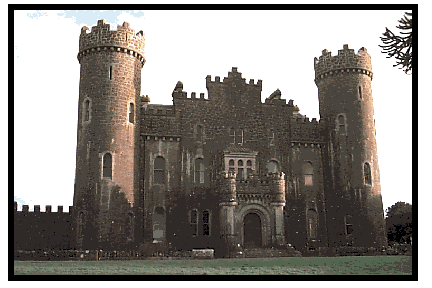 Clonyn Castle also known as Delvin Castle, is situated in Delvin, County Westmeath.
The first castle (now in ruin) is believed to have been built in 1181 by Hugh de Lacy the Norman, Lord of Meath for his brother-in-law, Sir Gilbert de Nugent.
Sir Gilbert, originally from the Nogent-le-Rotrou area in France, came to Ireland with Hugh de Lacy in 1171 and settled on some land in Delvin and was granted the title Baron of Delvin.
The ruins of Nugent Castle, burnt when Cromwell's army approached, remain near the centre of the city.
Clonyn Castle is a square, symmetrical, two-storey, 19th century castle of cut limestone. It has four tall, round corner towers.
The interior has a large two-storey hall with gallery and enormous arcading.
In 1639 Richard Nugent, 1st Earl of Westmeath, build another more recent castle, situated on the dominating ground, and now overlooking Delvin urbanised area today, may be referred to as either Delvin or Clonyn Castle.
Following the death of the 8th Earl and 1st and last Marquess of Westmeath in 1871, Clonyn passed to his only surviving child Lady Rosa, wife of the 1st Lord Greville.
In the post World War II period, the castle served briefly as a home for 97 Jewish children, most of them orphans of the Holocaust.
A golf course open to the public lies behind the more recent castle, 500 yards from Delvin centre.
Westmeath arms courtesy of European Heraldry.